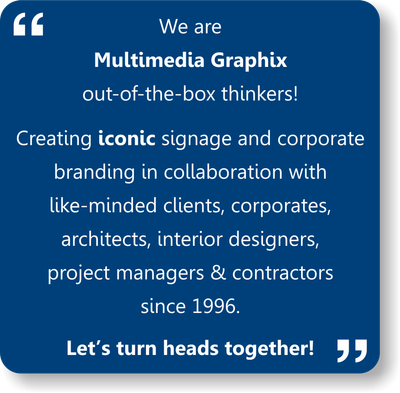 Multimedia Graphix was incorporated in 1996, with the aim of providing powerful visual communication solutions to Botswana. Customers benefit from our extensive experience, knowledge, full range of manufacturing capabilities and the latest cutting edge technologies in the field, all under one roof enabling a quick turnaround time.
As one of the founding custom signage companies in Botswana we not only work closely with you the client but also with architects, contractors and project managers to develop custom and bespoke signage for corporate, educational, financial, healthcare, retail and sports venues.
Exceptional customer experience, the latest technology, attention to detail, superior products, competitive pricing and not turning away even the smallest of projects have been our cornerstones since we made our very first sign back in 1996.
Over the years we have come to understand that signage creates a clients first impression but a lasting impression comes from following through on all the other visual communication elements. For this reason we also work closely with interior designers to create corporate spaces from within and with marketing teams to ensure that the right image is portrayed through corporate apparel, gifting and exhibition systems.
Multimedia Graphix offers a one stop visual communication solution.